Jodie Chester, RN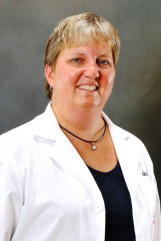 Jodie Chester received her Bachelors Degree in Nursing from University of Evansville in Evansville, Indiana. She is a licensed Registered Nurse (RN) in both Illinois and Indiana. Jodie has worked in Critical Care for the last 21 years. She is currently on staff at Good Samaritan Hospital where she primarily works with Open Heart Surgery patients in the Critical Care Unit. Jodie is a preceptor and mentor for other staff, and is a member of the Education Team for the unit.

Jodie is involved in many volunteer activities as well. She is active in High School District 87, coordinating health related events for high school students. Jodie also volunteers with Young Hearts 4 Life (a cardiac screening program for high school students). This has earned her nomination as one of the top five finalists for 2012 Excellence in Nursing Award.

She is certified by the American Heart Association in CPR, Advanced Cardiac Life Support (ACLS) and Pediatric Advanced Life Support (PALS).

She joined the OADC team in March 2010.
---